Venezuelan vacation
Catherine Quinn on the trip of a lifetime to Venezuela's Paria Peninsula
The Paria Peninsula in south-America must be where chocoholics go to die. Since Columbus's uneventful first landing here (he shipped out west in search of gold) the region has grown, harvested, and eaten chocolate in astonishing quantity. Shaped like a finger, pointing north from Venezuela, this slim stretch of land is banked from coast to coast with cocoa trees, peeking from the flanks of jungle.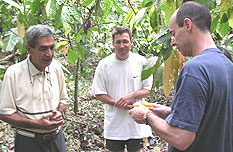 Many varieties grow in abundance, but for gourmets there is one kind of cocoa worth the wealth of the New World. Criollo cacao is by far the most precious of cocoa species, and grows most prolifically in Paria – otherwise known as the "chocolate coast".
A number of plantations still operate traditional methods to process the cocoa, making supplies of the precious bean integral to local economy. One such plantation is Hacienda Bukare, which has recently opened a small number of guest rooms for tourists interested in the process of growing chocolate.
A chocolate farm in the jungle?
As a certified chocoholic I'd had my own visions of what staying at a chocolate farm might be like. I pictured waking to a frothy cup of chocolate, photographing lush fields of cocoa, and chomping through bullion sized bars of chocolate. But sucking on raw cocoa beans, in the middle of the south-American jungle had not played a part in my prescience. Unlike coffee or tea, cocoa will only grow sheltered within dense thickets of jungle. And the best way to replicate this environment, quite simply, is to use the real thing.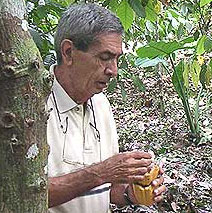 "The cocoa plantation has been described as 'green anarchy'"
So explains Billy Esser, the plantation owner, who has just cracked open a fresh pod, and scooped out the beans for me to taste. "The trees grow where they want to grow, and the pickers remember where each tree is when it's time to harvest." Chocolate plantations, it would seem, are more Indiana Jones, than Bridget.
Fresh from the pod, cocoa beans are coated in a sweet, creamy substance, tasting similar to mango. But the actual beans are bitter, and must undergo a lengthy process of drying and fermentation before they can be used for chocolate. The cocoa trees are small and ordinary looking, excepting the vivid purple-red pods which seem to have sprung fully-formed from the slender trunks. Whilst criollo cacao is usually too delicate to grow in abundance, here it is so endemic as to grow in backyards, and families sell their diminutive cocoa crops to local farmers.
Everyone's in on it
Driving through the region, we pass impromptu villages of tin shacks with home-made signage for "Cocoa Criollo" every few metres. The green and red symbol of Criollo leaf and pod is displayed like a jaunty tattoo, on numerous shops and buildings. A small barn, barely large enough to keep a few horses, proudly brands itself a "cocoa factory", with the characteristic leaf and pod painted cheerily on the exterior wall. As my jeep turns the corner, the dirt-track is suddenly pavemented with a brick-red swathe of cocoa beans – evidence of the "factory" production technique.
At the roadside two boys nonchalantly work the beans back and forth, allowing them maximum exposure to the sun. It seems the entire economical psyche of this small region is bound-up in the illustrious lure of cocoa. Almost every other home has a fistful of beans drying on the front-porch, and shops stack dark bullion-slabs of chocolate alongside maize, potato-chips, and sticky Coca Cola.
More on the family run Hacienda Bukare
Hacienda Bukare is by no means the largest on the peninsula, but Billy's entrepreneurial talents have added a small factory to the successful guestrooms and tours. The business employs a handful of locals to process the harvested beans, and transform them into a variety of chocolate products.
Waving goodbye to 'family chocolate'
The entire Esser family is involved in producing new varieties of chocolate, and as a guest I become necessarily caught up in the tasting process. On arrival I'm presented with an austere china cup containing, quite simply, the best hot-chocolate I've ever tasted. It's so good that I realise, with a certain sad resignation, I have permanently problematised my relationship with Galaxy chocolate.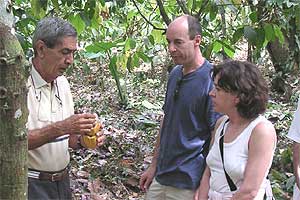 Billy Esser takes a tutorial at Bukare
More than a business, it's a way of life..
When not involved in production, it is Billy's father (also named Billy), who conducts guided tours amongst the flowering cocoa groves. But excepting the small flow of tourists through the farm's four guest rooms, life for the family is traditional – including the total pervasion of cacao.
Hot or cold chocolate drinks are taken for breakfast, for afternoon relaxation, or for medicinal purposes. Cocoa butter is used to treat every burn or scratch, and criollo trees lean into the balconies, like swaying interlopers. Even the surrounding region boasts a cuisine entirely indebted to the seductive scents of chocolate. If the peninsula made T-Shirts for tourists, they would probably read "I've been to Paria – Cadbury World eat your heart out".
…for the whole community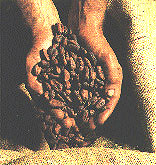 The obsession stems partly from a pride in the type of cocoa grown here. Criollo cocoa is vaunted as the best flavoured cocoa, with the least bitterness. This tiny stretch of land accounts for five percent of the world's cocoa production, almost all harvested by manual labour, and quite often by families. And one hundred percent of this output is transformed into superior or luxury chocolate. Whilst most English chocolate is made from hardier African breeds, this pure strain of cocoa is still highly prized as the "original" cacao – the only variety known to chocolate's first consumers, the Aztecs and Maya.
Now that's what I call a chocolate tasting
The culmination of the Bukare chocolate tour is an involved tasting session within the hacienda, where chocolate in all its glorious forms is slurped and savoured. Whilst not an experience for calorie counters (even Dr Atkins would take a dim view), for me this is the highlight of the day.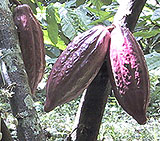 Numerous slabs of rich cocoa are washed down with Bukare's signature chocolate drink. Raw cocoa beans are chewed, fragrant cocoa butter sampled, and dishes of fresh mango with chocolate are wheeled out from the kitchen. At the end of the tasting session, when the other guests leave, Billy makes me an offer I can't refuse
"Catherine. Would you like some more chocolate?"
And with the camaraderie of co-conspirators, we sip coffee sweetened with a thick spoon of chocolate, and polish off the remains of the tasting session.
If you can drag yourself away from the chocolate
There is plenty to do in Paria besides eat chocolate, with thermal springs, beaches and buffalo ranches to tempt guests away from the plantations. The beaches are thought to be some of the best in the world, and certainly the most exalted in Venezuela. And the thermal-spas are a great way to relax even further into the south-American pace of life. But as a guest at the hacienda I am also party to the daily chocolate innovations, which leaves me quite content to laze in a hammock, tasting yet another variant of chocolate mango. Call me unimaginative, but I did come here to eat chocolate. Perhaps there's room for Bridget Jones after all.
Getting there
Fly to Caracas, then travel to Carupeno either by internal flight (one hour), or by road (around four hours). Hacienda Bukare can arrange to pick you up from Carupeno, or if you've hired a vehicle, it's an easy forty minutes drive along the peninsula. Return flights with American Airlines start from