Chocolate Harvest Moon
"I know I'm not alone…" sings Michael Franti,  but I am certain he isn't talking about these werewolf-like nights of this, the Harvest Moon in October. Normally the harvest moon comes in September bringing with it the early bright light traditionally allowing farmers to work after dark during the crucial harvest. Once in a blue moon it lands late, in October, and we get the double whammy of plunging temperatures and wild erratic dreams.
Ok, now you are thinking.."what is this moron talking about? Why cant he just talk about chocolate?" I'm getting to that.
It is because of this rare later moon that chocolate is capturing both of my worlds; the conscious one and the one I relish-the unconscious one. The dreams are now chocomares complete with harried production deadlines, equipment malfunctions, never ending cauldrons of 300 degree sugars spilling out in endless rivers of skin scorching goo. I awake with a start as visions of the melter somehow becoming un-anchored and   500 kilos of melted chocolate covering my kitchen floors in a layer of slippery money seem all too real. I panic at the thought of the mass mutiny of my staff when they come at me in the night with airbrushes and packing tape guns clutched in their sweaty hands snarling like a pack of zombies hell bent on eating what is left of my diseased brain.
This is the stuff chocomares are made of. Almost every chocolatier I have spoken with about this subject confirms it; we are all afflicted in some way by this. Like the seas our lives are in flux and being pulled by the moon. Its an uncontrollable situation that we learn to ride with or go insane because people are counting on us. Not just our loved ones and our employees, but the chocoholics who need their fix. The people whose pleasures are derived from our work. It is for them we endure this seasonal madness and forge through the labyrinth of terrifying monsters of our own design who only come out at night to taunt us.
Beware!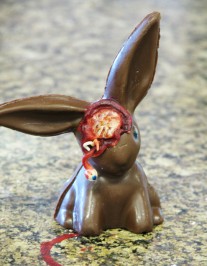 And bigger Fanduel and Draftkings leads to a better, more financially secure future for you and your family.. Vizio is constantly setting the bar for price while providing good quality against major name brands and even though the price Olevia televisions are low, most of their comparable televisions are still slightly higher then Vizio's.. A company sponsoring this event will most likely form a team and participate on the day of the walk.. But you don't have to do this in order to release the full nutritional benefits. FATSIS: Well, he's not going to be facing the kind of competition in practice and games that he would have in Europe.
Cheap Oakleys
I'll go see what those things hold and see if there's a way to make a difference there.". 'That's a really nice, secure feeling. After signing a 3 year contract with the Patriots, Chat Ochocinco is still trying to adjust to the team's offense after spending ten seasons accustomed to the one from the Bengals, though the wide receiver is expected to be completely integrated by the time the season starts in order to serve as one of Tom Brady's main weapons, and concerning this, the New England quarterback said that "The formations, the motions, the details of our route tree, is challenging for anybody. During our last quarterly call, we referenced that our uplisting to NASDAQ increased access to the broader capital markets and strengthened our ability to execute long term clinical strategies. The only bright side is that top prospect Nomar Mazara has been called up to replace him. There were no more painkillers no more Percodan pills in the medicine cabinet or under the bed or in whatever hole he had chosen as the latest hiding place for his drugs. Back in her kitchen, Kelsey puts a spin on this New York favorite with a berry bagel puff. The two highest rated broadcasts in cable TV history now belong to ESPN thanks to the new college football playoffs. In 2017 she
Cheap ray bans
will head to Fordham University in New York on a basketball
cheap oakleys sunglasses
scholarship.Alyssa Hirawani (Waikato/Hamilton Girls HS)Alyssa was also a member of the Waikato Under 23 championship winning team. Using the examples, the QB Rating for the quarterback would be:. Most importantly for Disney, it would secure the long term value proposition for ESPN, arguably the company's most
Replica ray bans
valuable
Fake Oakleys Sale
asset. However, they don't grow on trees so a team may have to take risk and some may even take some time to develop (Brees is a good example). As smoking can
Cheap nfl jerseys
affect your breathing and have a negative impact on your health and on your lungs, avoiding cigarettes can help you to overcome the condition as you'll breathe more freely and more clearly. And Tim Tebow doesn't have that fear, and
cheap oakleys
I think that elevates the entire club..