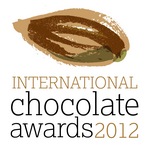 The International Chocolate Awards are a new initiative for 2012 launched by Martin Christy of Seventy% and Kate Johns of Chocolate Week.
The International Chocolate Awards are an independent organisation, partnering with fine chocolate experts and organisations in different countries with independent verification and oversight.
The first year's Awards will run in 2012 in Italy, the UK and the USA with other countries in progress. The first Grand Final will be held in Chocolate Week, 8-14 October, in the London. In future years the final will rotate around different locations.
The International Chocolate Awards are completely independent of any other fine chocolate organisation, but will work with associations and other partners in each particpating country. The Awards are overseen by an International Advisory Committee, an Entrants committee and the judging is overseen by an independent, international Grand Jury. For full details and our committment to fairness and transparency, see the awards website at www.internationalchocolateawards.com.
European Semi-final, London, 28 May 2012
The European Semi-final of the International Chocolate Awards will take place 28 May – 1 June in London. Judging will be in all categories, including origin and plain dark chocolate bars.
If you are a chocolate company, details of how to enter are at www.internationalchocolateawards.com/entry-forms.
The Americas Semi-final will be held in New York in September. Details of the dates and how to enter for US, Canadian, Latin American and Caribbean companies will be available soon.
Italian National Competitions – results
On 14 April, Seventy% and Chocolate Week packed their suitcases and took off for Tuscany to organise the Italian National Chocolate Awards with Italian chocolate expert, Monica Meschini.
Over 100 chocolate products were entered from all over Italy, with judges from Florence, Milan, Rome and London gathering in the Medici's villa in Artimino for a non-stop contest lasting three days.
The winners of 12 categories were announced last week. Highlights included a gold for 'Lattesal' from Domori and Slitti's 'Riccosa' , which took Gold in milk chocolate spreads.
The winners will compete alongside the best of the European and Americas semi-finals (London, May 2012 & New York, Sept 2012). Tthe Grand Final will take place during Chocolate Week in London, 8-14 October.