Before the taste:  This is Pacari's newest bar.  Though it is not yet available to purchase, it was "launched" during the Peru Chocolate and Cacao Salon in Lima, at a tasting held at the Huaca Pucllana restaurant, where it was fashioned into incredible concoctions by the Huaca Pucllana chefs and Damian Allsop, one of England's best chocolatiers.  The boxes haven't yet been made, so the only packaging I have is the inner foil wrap.  This is a new wrapper for Pacari, with a beautifully-stylized cacao pod under the Pacari name and logo.  It is scored at the top right and left, but, unfortunately, the scoring draws the tear down the bar, instead of across it, making it difficult to open.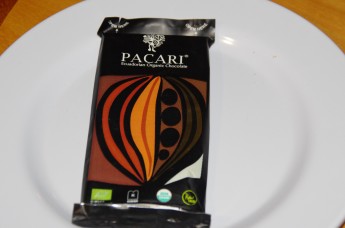 The beans are from a small farm in the Piura region.  The beans are white, giving the resulting chocolate a paleness that looks like milk chocolate, though it has no milk.  There is a rawness to the odor – a pungent greenness, with a slight hint of melon, that smells of a freshly-halved cacao pod.  The bar itself is smooth and satiny with a denseness that leaves no room for bubbles or flakiness.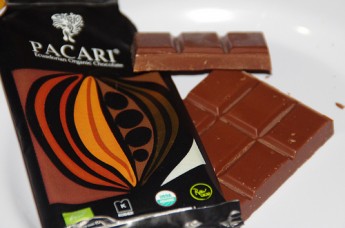 Getting to the heart of it:  There is a nice snap to the chocolate, which shouldn't be surprising in a Pacari bar but, somehow, is, because of the paleness.  The bar is creamy and smooth, with just a slight stickiness that is pleasant, rather than cloying.  The opening note is sharp, evoking, again, a rawness, though this is not a raw bar.  There are notes of dried fruit, raw cocoa beans, citrus and, towards the end, nuts, all tumbling over each other on a wave of chocolate flavor that persists throughout and for a while after the other notes have faded.  There is astringency in the finish, which builds with each bite, and a slight burning in the back of the throat.
Overall:  This is my new favorite Pacari bar (edging out the Raw 70% by a slim margin – rankings will get even tighter when Pacari's Nube comes out).  The complexity of flavors and the smooth texture are the best of both worlds, for me.  It was a little sweet for me, but overall, I enjoyed it every much.  I look forward to the launch of the bar, so I can stock my chocolate cupboard!