Elizabeth Shaw – all crunched up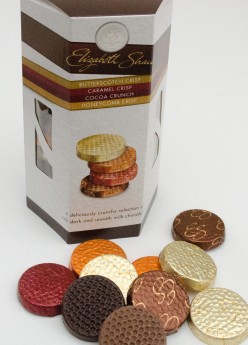 As regular readers will know, we mostly review plain, dark, origin chocolate bars on this site, with the occasional featured piece on the work of a fine chocolate maker or chocolatier. We focus on those making chocolate and other chocolate products – with plain, dark, origin chocolate.
Keeping up with all the incoming fine chocolate bars is hard enough, so we usually tend to ignore approaches from high street brands producing mid-market 'premium' products on a large scale.
It's summer though and we're outside the rush and tumble of the autumn/winter chocolate season. So when the Social Media manager for UK premium chocolate brand Elizabeth Shaw suggested they send samples of their new, expanded range, my reaction was 'why not', let's see what you've got. Traditional 'luxury' brands like this obviously need to move forward with the general upward quality trend in the market or lose their market position, so it would be interesting to see if the Elizabeth Shaw brand was up to the challenge.
Mint tradition
Elizabeth Shaw are famous in the UK for their mint crisp disks, foiled wrapped thick disks of chocolate with mint candy crisp pieces mixed in. This is a combination I remember well as a kid, in even cheaper corner shop type products (anyone remember the Biarritz mint crisp bar from the 1970s?)
Our continental cousins have never quite fully understood the British taste for chocolate and mint (except perhaps in a very refined ganache, made from infused fresh mint leaves.) The minty crunch against a melted chocolate background can be a very good one though – perhaps overdue for reinvention by one of our top chocolatiers.
To capitalise on their fame then, Elizabeth Shaw have recently expanded their range into other areas of crispiness, including butterscotch crisp, orange and – really keeping up with the upward market trend here – cocoa nibs in a dark bar.
Crunchy selection
Even before tasting these products though, glancing at the ingredients does not bode well. The dark chocolate in the dark crisp disks is only 45% cocoa solids (remember that a good, normal, sweet tasting fine milk chocolate like Valrhona's classic Jivara is 40% cocoa solids, and that's a milk.)
[pullquote_right]Elizabeth Shaw's Dark Chocolate uses 45% Cocoa Solids, so you get high quality chocolate but without the bitter taste to it.[/pullquote_right]
To quote their marketing notes: "Typically, Dark Chocolate can have a really bitter taste, but Elizabeth Shaw's Dark Chocolate uses 45% Cocoa Solids, so you get high quality chocolate but without the bitter taste to it."
I think readers of this site can guess my reaction to that statement, but let's look in detail. "Typically, Dark Chocolate can have a really bitter taste" – yes, it is quite typical and that's what happens if you use bad cacao that's over-roasted and made into bad chocolate.
This is marketing hype at its best, trying to twist a negative into a plus. 45% cocoa solids chocolate does not make 'high quality chocolate'. It's mostly sugar. Added to 'crisp' part of the products, which will also mostly be sugar, that's a lot of sugar.
'Flavourings'
That's what first caught my eye, usually though the easiest way to work out if a product has a chance of being any good is to read the ingredients list from the end backwards. The point at which I would advise putting a product back on the shelf comes as soon as you see anything artificial sounding. Elizabeth Shaw Dark Mint Crisp Chocolates may smell of mint, but that's not a word you'll find in the ingredients list.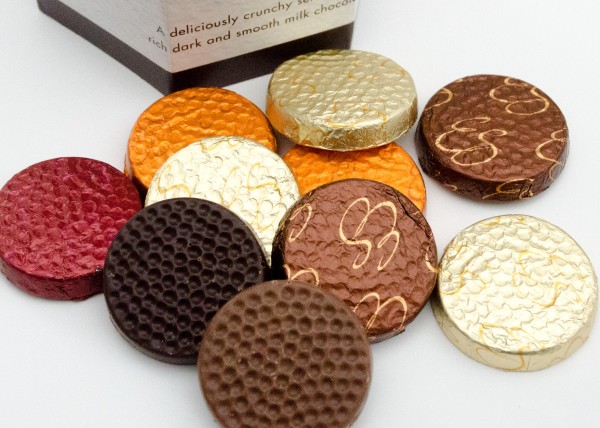 In this case, the culprit is the mystery catch all 'flavourings'. I always wonder exactly what that means and it's disappointing that this is allowed on food. You might as well just put one word down for the whole list: 'food', 'ingredients', 'stuff'. It's a bad sign though, real natural flavourings would be listed as themselves, anything else is artificial. The only reason to use flavour additives is because you chose cheap, poor tasting products in the first place. Basically you are trying to make cheap stuff taste better, with other cheap stuff. While the smell is pleasantly minty, the taste does not live up to that promise.
We can only guess what the original recipe of Elizabeth Shaw's famous mint crisps might have been, but we can safely assume that it was not this: "Sugar, cocoa mass, glucose syrup, cocoa butter, invert sugar, emulsifier: soya lecithin, flavourings, raising agent: sodium bicarbonate". (Taken from this information sheet). Notice the one significant omission there.
[pullquote_left]Elizabeth Shaw Dark Mint Crisp Chocolates may smell of mint, but that's not a word you'll find in the ingredients list.[/pullquote_left]
The new crunchy selection sounds really appealing, but fails to deliver on promise. Honeycomb is so easy to do, but the market research obviously came back 'it needs to be more honeyish', so a flavour is added. The butterscotch tastes over-sweet and over-flavoured at the same time. In the caramel, we can really taste the sweetness of the dark chocolate, along with a musty after taste. The cocoa nib disc is almost a relief after all these, but the dark chocolate is overly sweet with an unpleasant length.
A quick web search shows you can buy a 250g box of these online for £4. I guess I'm spoilt, but I can't see this as good value. I'd rather spend £8 on 100g and begin to have something with better taste and less sugar.
Cocoa Crunch bar
Elizabeth Shaw have come closer to something authentic here. Their market research has identified a trend in the fine chocolate world – cacao nib bars – and tried to ride on this, bringing a new, sophisticated idea to the middle market. Imitations usually miss the point though. I love nib bars, right back to first tasting Cluizel's "Noir au Grue" bar, which I first tasted in the early 1990s. The cacao solids have gone up this time, to a more reasonable 57% (apparently a 'really bitter' taste is ok here). This is still below the normal minimum though, even given the addition of cacao nibs, these bars usually start at 60%.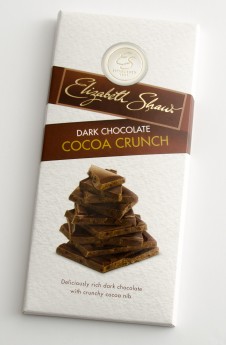 Nib bars are always easy to eat, and this is not the worst I've tasted by any means. The cacao though is clearly West African, with distinct coconut giving it away. To quote Elizabeth Shaw's about page "That's why we source a very specific blend of cocoa from the Côte d'Ivoire. It's then refined for 24 hours, creating a smooth chocolate with an unforgettable texture and taste." I really, really doubt that Elizabeth Shaw have any involvement in the cocoa trade in Ivory Coast or have been flying down there talking to farmers and sourcing cocoa. (Happy to be corrected if that's the case.)
Callebaut chocolate
To a casual reader, this might suggest that Elizabeth Shaw make their chocolate themselves. But as we know, this really is very rare and for most companies like this, their key ingredient is produced elsewhere. Actually, in what's probably an unintended burst of transparency, the source of the chocolate is given away by the 'Quality Cocoa for a Better Life' logo on the back of the bar, which on following the link given – www.qualitycocoabetterlife.com – takes you to a Callebaut website. So this is Callebaut chocolate, most likely not made in the UK. Possibly the whole bar is private label made elsewhere, as the Elizabeth Show website tells us only that 'our Chocolate Crisp products are still manufactured here in Great Britain', while this is not mentioned for other products.
The addition of butterfat in this bar is completely unnecessary and unwise. Cocoa butter is relatively cheap now (due to high Asian demand for cocoa powder) and could have been used instead.
This really reeks of lazy recipe design by food science and focus group, not by any desire to move the brand upwards through quality and taste. This becomes clearer in the aftertaste, which is really not fun – 'battery on the tongue' metallic, meaty and off-custard.
A few small improvements here based on taste and this could have been a reasonable lower-middle market bar. The lesson here is that if you move into the fine market, where people are buying more out of health and quality than brand 'luxury', consumers will in time catch you out.
Amaretto Flutes
30% milk chocolate sticks with a strange, off Amaretto marzipan smell and a chemical taste. We often talk about the importance of after-taste when it comes to chocolate tasting. It's just as important for detecting good notes as bad. The problem with the really bad though, is they tend to linger and can be really hard to get rid of. I've noticed this is much more true of products with artificial flavours than natural ones. I now have off mint and off marzipan stuck in my mouth that I can't get rid of.
Crunching to a conclusion
Overall, a collection that promises traditional English simpleness, but rather than sticking to good basic ingredients, tries to over-egg the whole thing through flavour additives. I could respect this more and its place in the market if there were a few more natural ingredients involved (mint?) I've nothing against well-flavoured sugar and sweetness, there's a place for it. This is just disappointing though.
For more information about the Elizabeth Shaw brand, see: www.elizabethshaw.co.uk.