Directly Traded collection from Geert Vercruysse
Photos provided by Geert Vercruysse
After a long incubation period, the new fine chocolate industry association Direct Cacao was finally launched during Chocolate Week in London on 12 October 2012. Less than a week later, many of the founding members were in Amsterdam for the second yearly 'Origin Chocolate Event'.
Flemish Belgian chocolatier Geert Vercruysse was also at the event, exhibiting his chocolates in the central hall of the Royal Tropical Institute in (Koninklijk Instituut voor de Tropen). Geert has a reputation for experimentation, using different chocolate from makers from around the world in different combinations in his ganaches.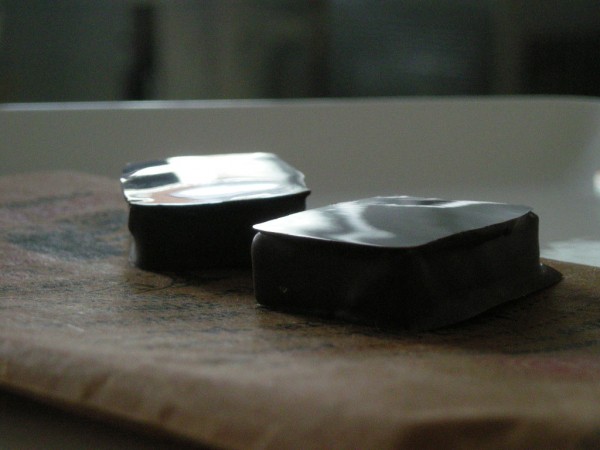 So it was a moment of serendipity that Geert's latest collection could almost have been designed as a 'Direct Cacao' special, featuring chocolate from members, potential members and other direct sourcing chocolate makers. It was a must, then to take away a box of Geert's inventive creations to sample.
There's some free thinking here, with whole, flavoured chocolate bars used to make ganaches – Geert is like a kid in a toy box, but at least he's playing in the right toy box with the best toys to be found in the chocolatey world. Overall though, the quality of the chocolate used is key and everything else follows effortlessly – good ingredients and good technique equals good chocolates. Easy.
Original Beans Cru Virunga 70% enrobed Grenada 38% Felchlin
Like the Grenada ganaches, Geert has made a special cocoa butter transfer using the Original Beans logo, so there's really no mistaking whose chocolate is being used. This is direct sourcing and transparency taken to a new level. An interesting milk/dark combination here, with the milk unusually being on the outside.
At first the two origins fight a little, but as the ganache melts the Virunga sweet plum notes come through, with green tea, honey and of course milk popping up because of the milk/dark combination. There's also a slight floral edge going on, again probably the result of the match of chocolates rather than a distinct note in either. This is rather like matching chocolate with wine or whisky, putting two things together and getting something new that wasn't in either.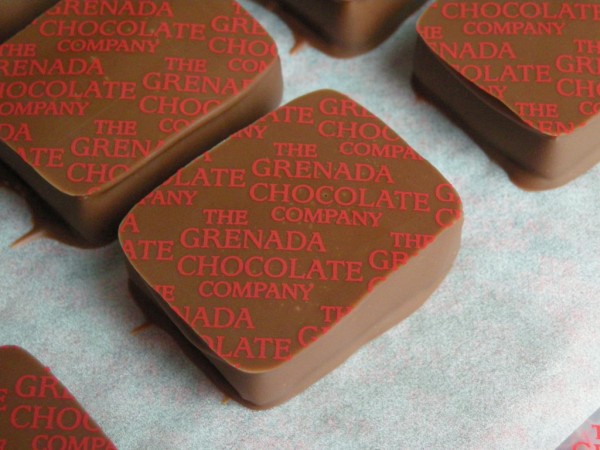 The Grenada Chocolate Company 65% dark-raspberries enrobed Cru Sauvage 68% Felchlin
Tart fresh raspberries paired with the sulphurous rum notes of Grenada 65% couverture. Beautiful chocolatey aftertaste with a burst of raspberry mousse. The raspberries create a great textural effect, somehow both munchably thick but meltingly light at the same time. A very innovative and successful combination.
Pacari 70% Raw enrobed 38% Grenada Felchlin
Something of extremes here, Pacari 70% Raw almost ironically enrobed in a 38% milk chocolate. Very palatable and rounded, with the cream ganache creating a green tea note from the usual Pacari green banana.
Enjoyable, but the cream and milk chocolate probably hide the more interesting notes of Pacari Raw – though some might prefer this softer and more controlled interpretation.
Danta Finca Las Acacias milkganache enrobed Cru Sauvage Bolivia 68% Felchlin
Milk chocolate made in Guatemala from local criollo cacao, mixed up with a dark coating from Felchlin's famous Beni. Notes of hay and green grass create in a delicate milk ganache that's not too sweet and that has a clean milk aftertaste.
Original Beans Beni Wild Harvest 68%
Purely Original Beans Beni, both inside and out. Soft toffee notes, blackcurrant jam and hints of coffee, though I suspect closeness in the box to the Grenada dark-raspberries piece has had some influence here. Lightly tannic at the end, but overall very smooth.
Askinosie Del Tambo Ecuador 70% & nibs enrobed Cru Sauvage Bolivia Felchlin
Full peachy dry raisin and wine notes in an exciting ganache that really enhances the flavours of the Del Tambo bar, losing the slightly rougher, drier Askinosie texture but gaining another level of flavour. Geert being Geert has thrown the whole bar in, so you get the nibs as well, though they do tend to go a bit soft inside the ganache.
Akesson's Black pepper enrobed in Cru Sauvage Bolivia 68% Felchlin
Another 'whole bar' experiment, this time with the already flavoured Åkesson's Organic – Madagascar 75% with Black Pepper. As well as being the source of some of the best cacao in Madagascar and the Pralus-made chocolate he makes from it, Bertil Åkesson is also a master of pepper. His is some of the best you can get and is pretty much all I use in my kitchen. A lot of chocolatiers agree – you'll often find Åkesson to be the source behind their pepper ganache or bar creations.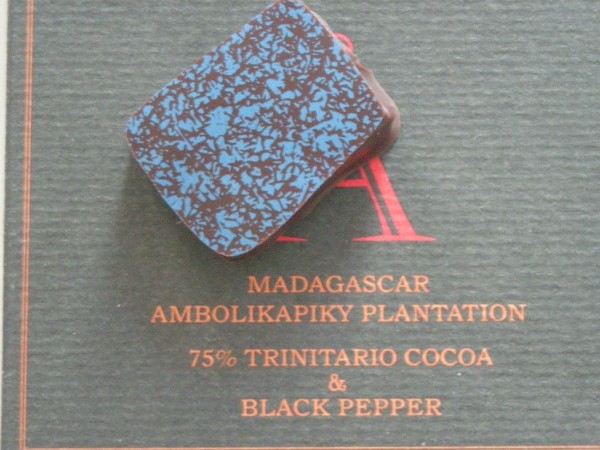 Here the ganache softens the initial effect of the pepper, with a creamy fruity notes you'd expect of a Madagascan ganache, then the quality of the pepper coming through softly in a controlled way at the end. Not at all overpowering.
Others in the collection: 'The Grenada Chocolate Company 82% enrobed in Grenada 38% Felchlin' – an extreme of Grenadan contrasts with an initial milky hit followed by deep Grenadan fruity rum.
Without knowing it, Geert's created something special here – a leading edge ganache collection using chocolate from leading edge, directly sourcing chocolate makers. If Direct Cacao and supporters like Geert are a success, this is the future of the fine chocolatier.