Amano – Dos Rios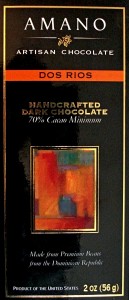 Reviews
Stuart Robson: 16-Mar-2011

SCORES
Score/10
Weight
Aroma:
10%
Look/snap:
5%
Taste:
35%
Melt:
5%
Length:
15%
Opinion:
30%
Total/100:
100%

| | |
| --- | --- |
| INFO | |
| Best before: | |
| Batch num: | |
| Source: | |
| Supplied by: | |

The finish of this example has clearly seen better days.  There are a number of shipping scuffs and marks that mar what seems to have been a typically well handled finish from Amano, with only the expected swirling and a couple of tiny bubbles to speak against it. The colour is fairly light, medium brown and has mildly bloomed in places. The snap however is still reassuringly clean and sharp.

Any worries that this bar may have been past best are completely dispelled by the aroma, which is hugely characterful and instantly recognisable with a surge of juicy, ripe and sweet citrus. Others have mentioned Bergamot and while that certainly can't be argued with, I would add papaya and a whole range of sweet oranges like clementines or tangerines. There are floral back notes reminiscent of jasmine, something I often associate with Amano, alongside some soft nutmeg and cardamom. I have never come across a chocolate with such a powerful and distinctive aroma as this.

The palette largely mirrors the nose with the orangey citrus notes being prominent, alongside a greater floral presence than might have been expected; the jasmine now being joined by a little violet and a delicate hint of clover honey/orange blossom tea. The mid palette sees the spices return in the form of more nutmeg but with the citrus continuing to dominate the overall profile. Into the finish things take a turn into firm tannins and unexpected nutty suggestions reminiscent of cashew but the sweet orange is still ever-present in the considerable length. The melt is a little below Amano's best, a touch chalky and slightly grainy but far from poor considering the delicacy of production needed to harness the flavours on offer here.

After identifying beans that could lead to such a powerfully distinct set of aromatics it must have been a considerable challenge to then to draw out those flavours in the final chocolate. The result is a bar of rare individuality that re-defines the idea of a demonstrative note in fine chocolate and shows just how complex and interesting certain beans, fermented in a certain way, can be. It could be said that this bar is a little unbalanced but that would, I think, be missing the point of creating such a chocolate.
Alex Rast: 11-Sep-2010

SCORES
Score/10
Weight
Aroma:
10%
Look/snap:
5%
Taste:
35%
Melt:
5%
Length:
15%
Opinion:
30%
Total/100:
100%

| | |
| --- | --- |
| INFO | |
| Best before: | |
| Batch num: | |
| Source: | |
| Supplied by: | |

Dominican Republic chocolates seem to produce a great many winners, but here Amano has achieved something so radically different from the typical Dominican that one wonders if it's really the same origin at all. The visuals don't necessarily hint at this, possessing the typical Dominican orangey-brown, a bit on the light side but certainly not light like a Madagascar. Finish is excellent other than some mild swirling, and possesses the mirror sheen that is a distinctive Amano "signature".

Aroma is so wildly different to anything previously seen in chocolate that it redefines the bounds of the possible. A clear floral note asserts itself, along with something sharp, reminiscent of pine nuts. However the highlight is a prominent citrus, bearing, as has been stated elsewhere, a clear signature of bergamot. There is even a hint of perfume in here, so that on the whole the feeling is more of being immersed in a Middle Eastern setting than of one Caribbean. It's fair to say that no bar from any company, ever, has come close to being this distinctive.

The flavour more or less bears out the aroma initially, with that citrus characteristic prevailing as would be expected, and the floral notes likewise making themselves known. In what almost seems like a nod to Domori, something of that company's creamy/cheesey flavour then appears, but after that the flavour changes into a very different, nutty and earthy character of which there was no hint in the aroma. This might be the only letdown in what is otherwise a delightful and wholly original flavour presentation.

Texture is very good, although not perhaps perfect, extremely creamy but only medium smooth. The impression here, though, is that the smoothness is more the result of a deliberate processing decision not to overrefine, so as to capture the very unusual flavour characteristics that in an extensively processed chocolate would no doubt have faded into a fairly bland nutty/creamy more like almonds. Not that this would have been a bad result, but Amano has done something very special here: revealed that even a familiar origin like Dominican Republic can offer new surprises. In fairness there are perhaps better, "chocolatier" chocolates, that deliver distinctiveness while fulfilling usual expectations (such as Amano's own Montanya), but this is by any evaluation a good chocolate. What other surprises might Amano have in store for the future?
Hans-Peter Rot: 17-Feb-2010

SCORES
Score/10
Weight
Aroma:
10%
Look/snap:
5%
Taste:
35%
Melt:
5%
Length:
15%
Opinion:
30%
Total/100:
100%

| | |
| --- | --- |
| INFO | |
| Best before: | |
| Batch num: | |
| Source: | |
| Supplied by: | |

Strong, powerful aroma, offering waves of lavender and a fermented fruitiness of prunes and cranberries with plenty of spice underneath. The effect is enhanced by the suggestion of acidity in the flavor, with accenting cedar and lemon in the background. "Interesting" would indeed be an understatement, and for a Dominican, perhaps even doubly so, since this theme more closely resembles that of Sambirano.

Continuing outside the realm of convention, the chocolate tastes almost entirely like Early Grey tea infused with the floral essence of lavender. Turned ecstatically to 11, the volume of these inherently docile flavors is blistering, almost taking center stage completely if not for the piquant and spicy undertones that contribute much needed balance and contrast, until things end decidedly fruity, namely blueberries and something red.

Amano has done a good job at highlighting the intensity of the chocolate, both in terms of chocolatiness and flavor volume, making it clear they were proud of the quality and wanted everyone to take note as well. Despite this, though, the texture is noticeably grainy and slightly below par of industry standards. Although it does take the sheen off an otherwise brilliant flavor the chocolate as a whole is still a resounding success as it not only differentiates itself from everything else on the market but also strengthens the distinction and prominence of the Dominican origin. Applause goes to Amano for creating such a wonderful chocolate.